Sample Work
All documents here are real assignments from editors at Ivy Writing. They contain the standard components of our complete essay editing service.

You may note the following qualities about our work that are often difficult to find in other services:

The detailed comments show potential for small and large improvements. Our editors go through each sentence in great detail and recommend ways to avoid the same mistakes in the future. Our goal is not just to help you with this single assignment - it is to help you permanently become a better writer.


Our editors request additional details to improve your essay. Over the assignment they may even work on over four drafts of the same essay to make it perfect. We want to make sure your application is perfect and conveys exactly what you want it to. Contrast this to other services that simply return one draft and expect you to work with it alone.


The final draft you receive after revisions will be in perfect condition. This means you will be ready to submit your application after using our service. Best of all, you will have full confidence that one of the top scholars in the United States has done all he possibly can on your assignment.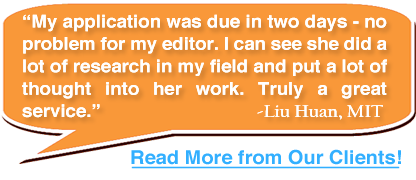 All these clients reached great success in their applications and are currently attending schools of their top choices.
MBA Programs
Applying to - U Penn (Wharton) MBA
Essay #2 (out of whole package)

Applying to - MIT (Sloan) MBA
Essay #2 (out of whole package)

Applying to - Stanford MBA
Essay #1 (out of whole package)

Graduate School
Applying to - MIT, PhD in Physics
Personal Statement

Applying to - Master's in Accounting
Personal Statement

Applying to - Master's in Chemical Engineering
Personal Statement

Applying to - PhD in Finance
Short Essay

Applying to - Master's in Public Relations
Short Essay

Resumes
Applied to - Consulting Firms
Now employed at - McKinsey

Applied to - MBA Programs
Now attending - Wharton Business School

Applied to - MBA Programs
Now attending - UChicago (Booth) Business School

Law
Applying to - Law Schools
Personal Statement

Undergraduate Schools
Applying to - Ivy League Schools
Personal Statement

Applying to - Dartmouth
Short Essay